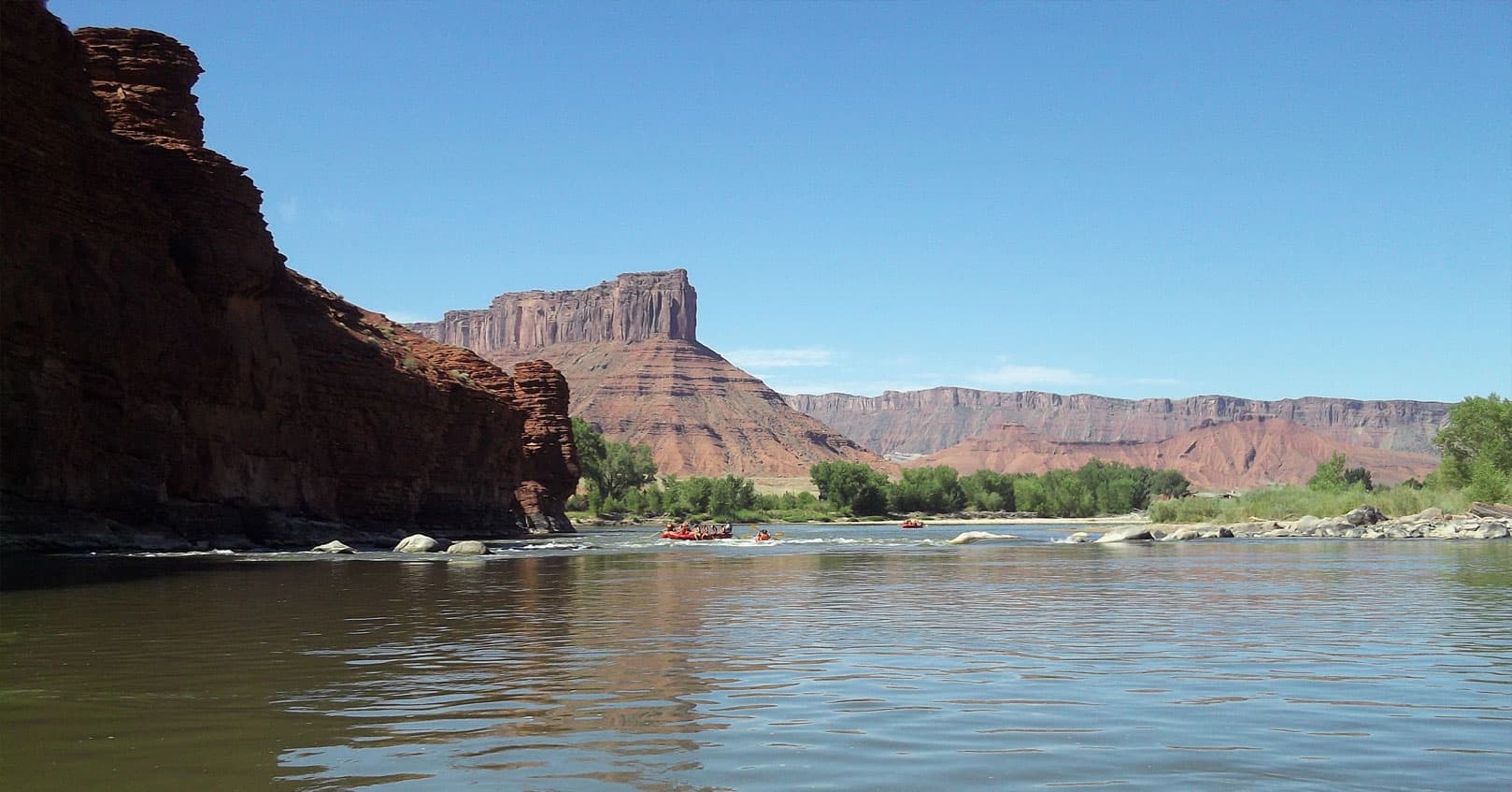 Two weeks ago, I had the chance to go rafting down the Colorado River. I've been wanting to go rafting for years, and when the originally scheduled youth group canceled because of that pesky virus going around, spots opened up for families at the same discounted price. My husband and I signed up, along with three of our kids, and when the time came, we loaded up our car and headed to Moab.
This is me, ready to go. Ignore my weird hair. It was just going to get wet!
Hotter than Hot/Corona Arch
It was terribly hot in Moab at our camping spot across from the Corona Arch trailhead, which dampened our enthusiasm, but it finally cooled down enough for us to hike up to Corona Arch that evening. It was a nice, easy hike. There were many fascinating rock formations, which I didn't include here. These pictures don't do it justice. You really need to see it for yourself. Beautiful!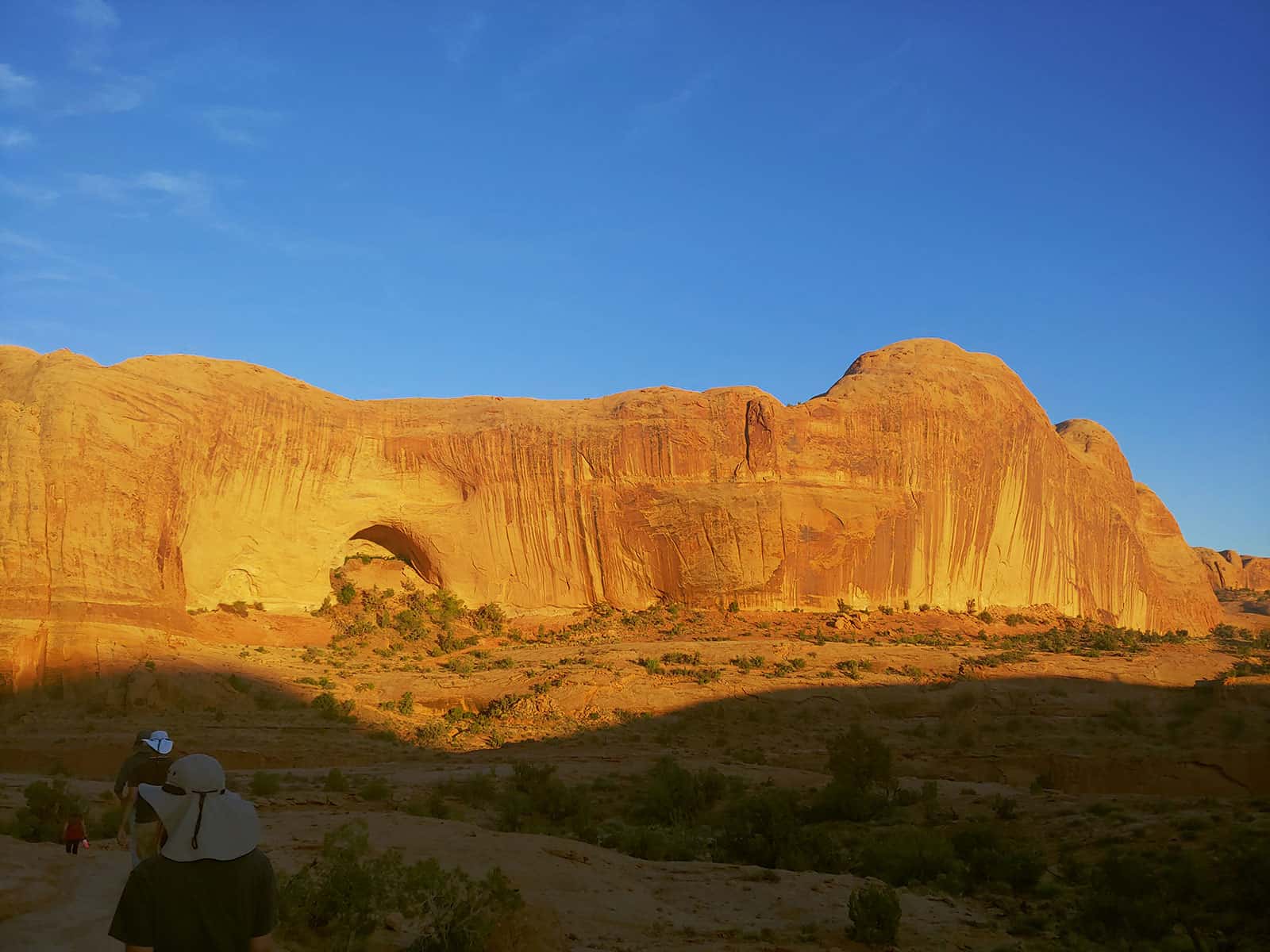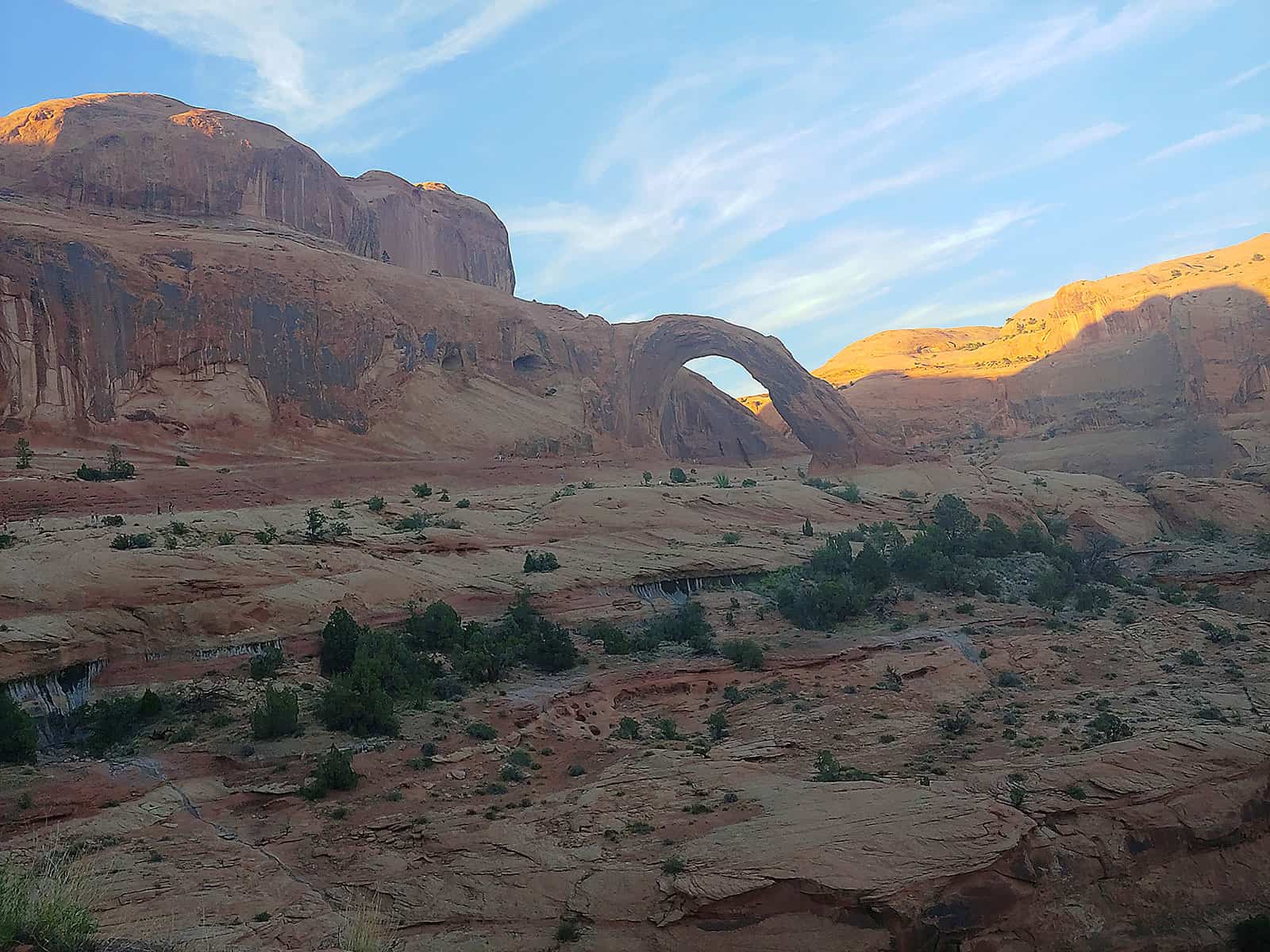 Us Under the Arch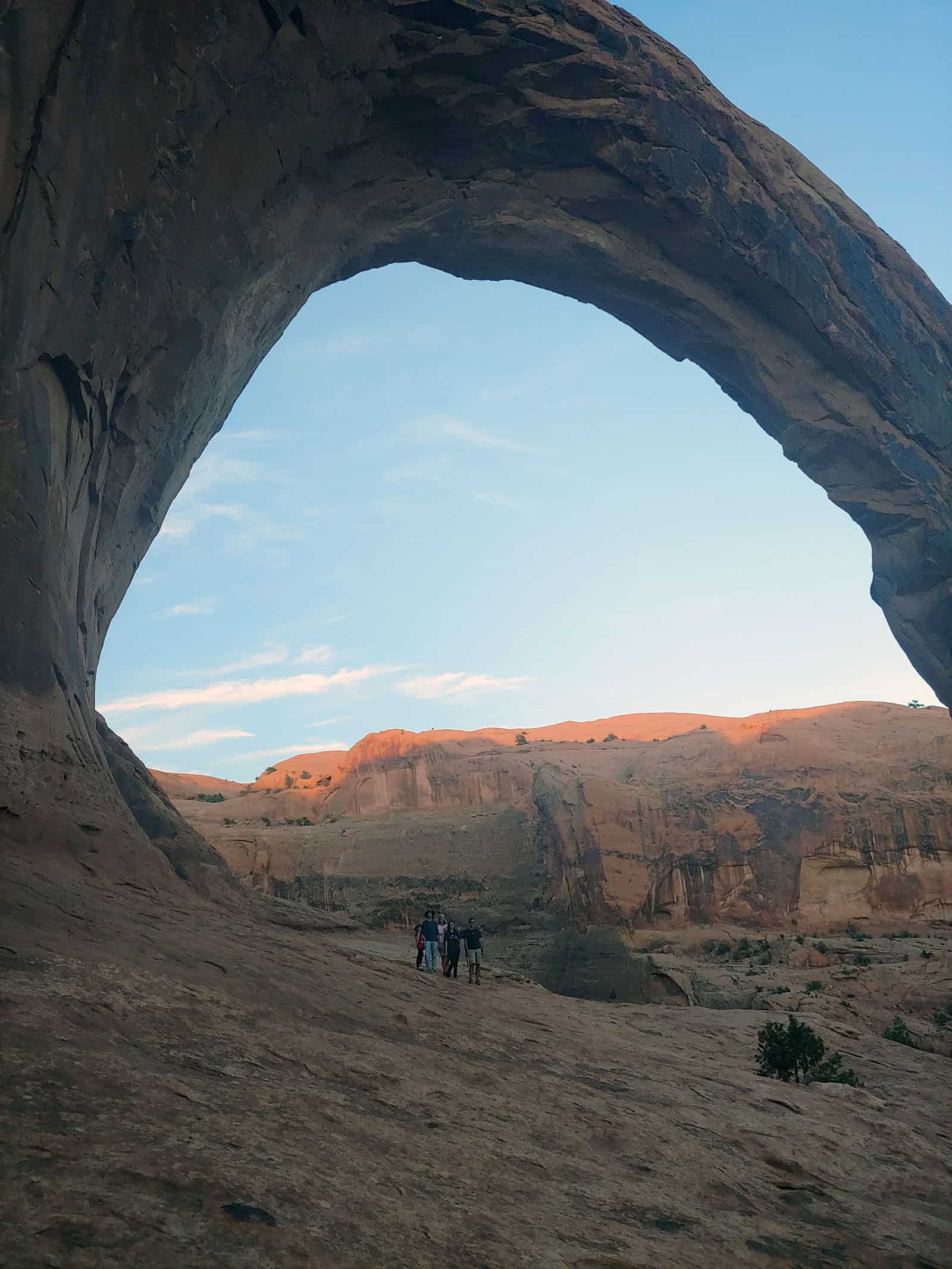 Carins
There are many carins built by people who go to the arch. We built one in memory of my youngest sister, Sarah, who died of liver failure last year. Later online I learn that the rangers really don't want people to build them. Oops!
Fisher Towers Run
The next morning, we headed to the river! We went with a guided group on the all-day Fisher Towers run. First picture is Lisbon. The next is of my two daughters and husband (who forgot to shave). The last one is my youngest son and Lisbon (who is the youngest of all seven of our kids). Jared and Lisbon are super close, despite the 12 years that separate them.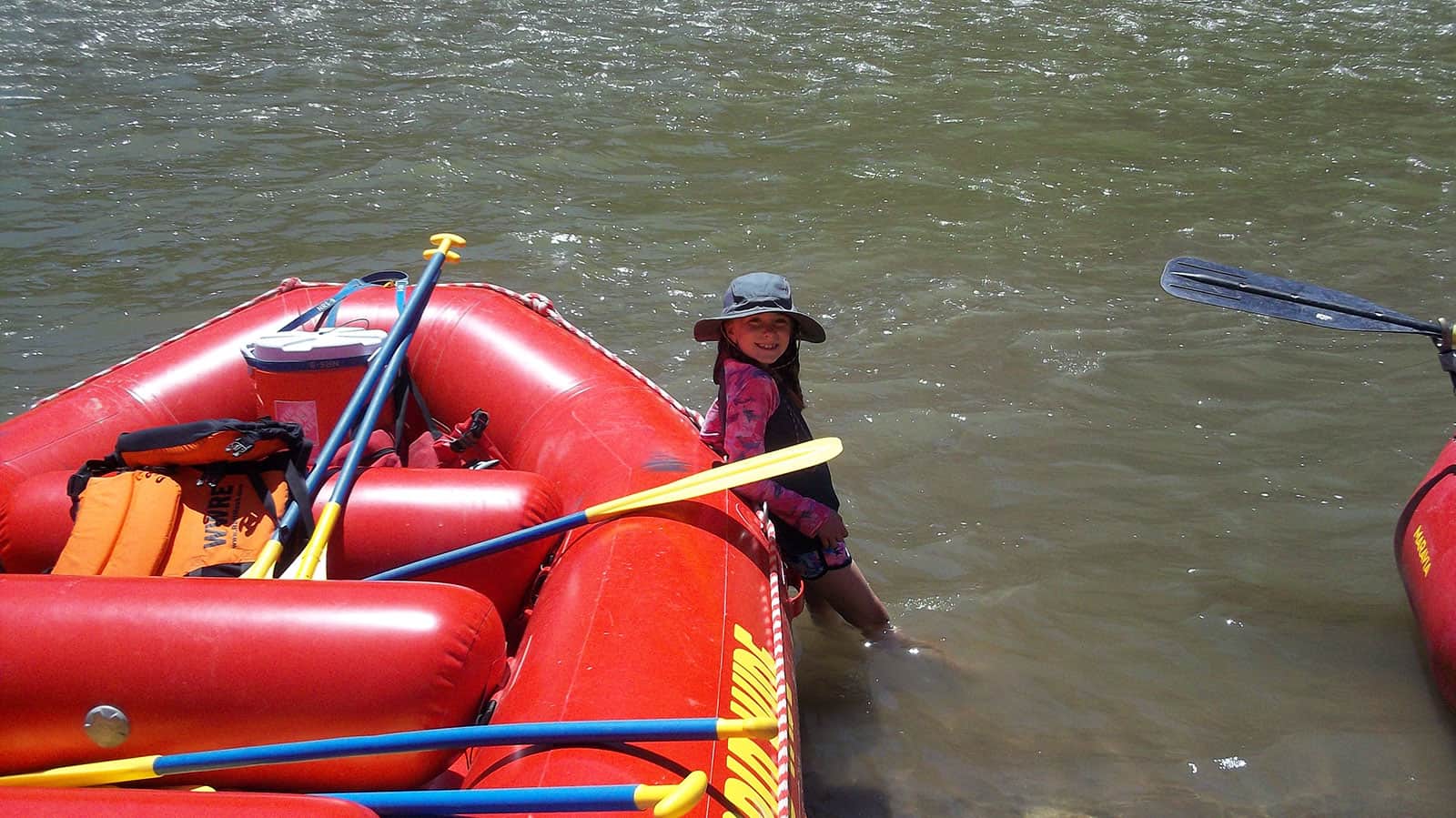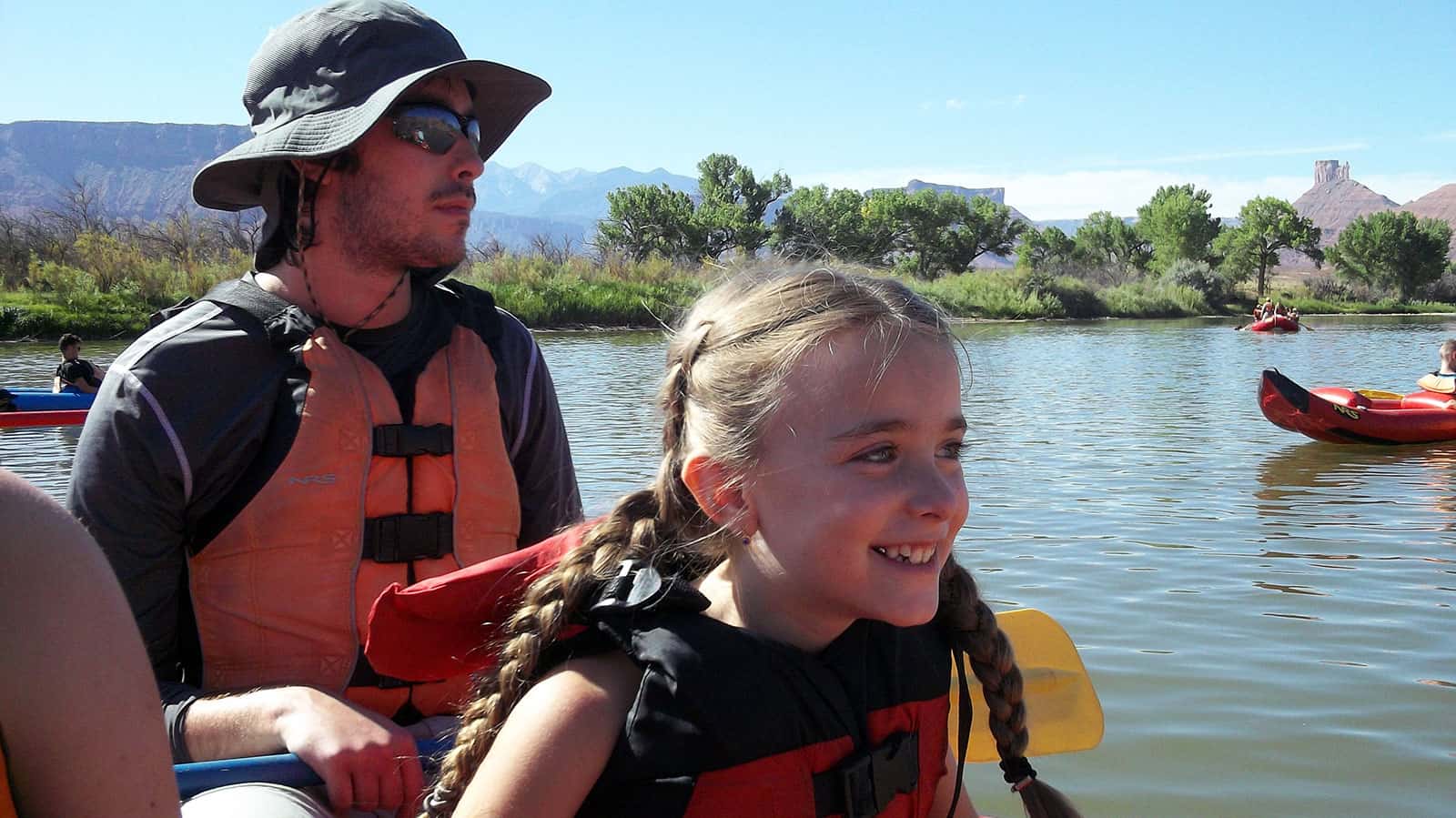 Not Very Rapid
On this section of the water, especially with the lower water level, the so-called rapids were, well, not very rapid. In fact, it was a little too placid for my tastes. Contrary to what I thought, there really isn't a danger of tipping on these big  boats, at least not on that run.  I'm told that other places at earlier times of the year are more exciting. With eight-year-old Lisbon along, I was okay with a calm run. She may swim like a fish, but she's still little.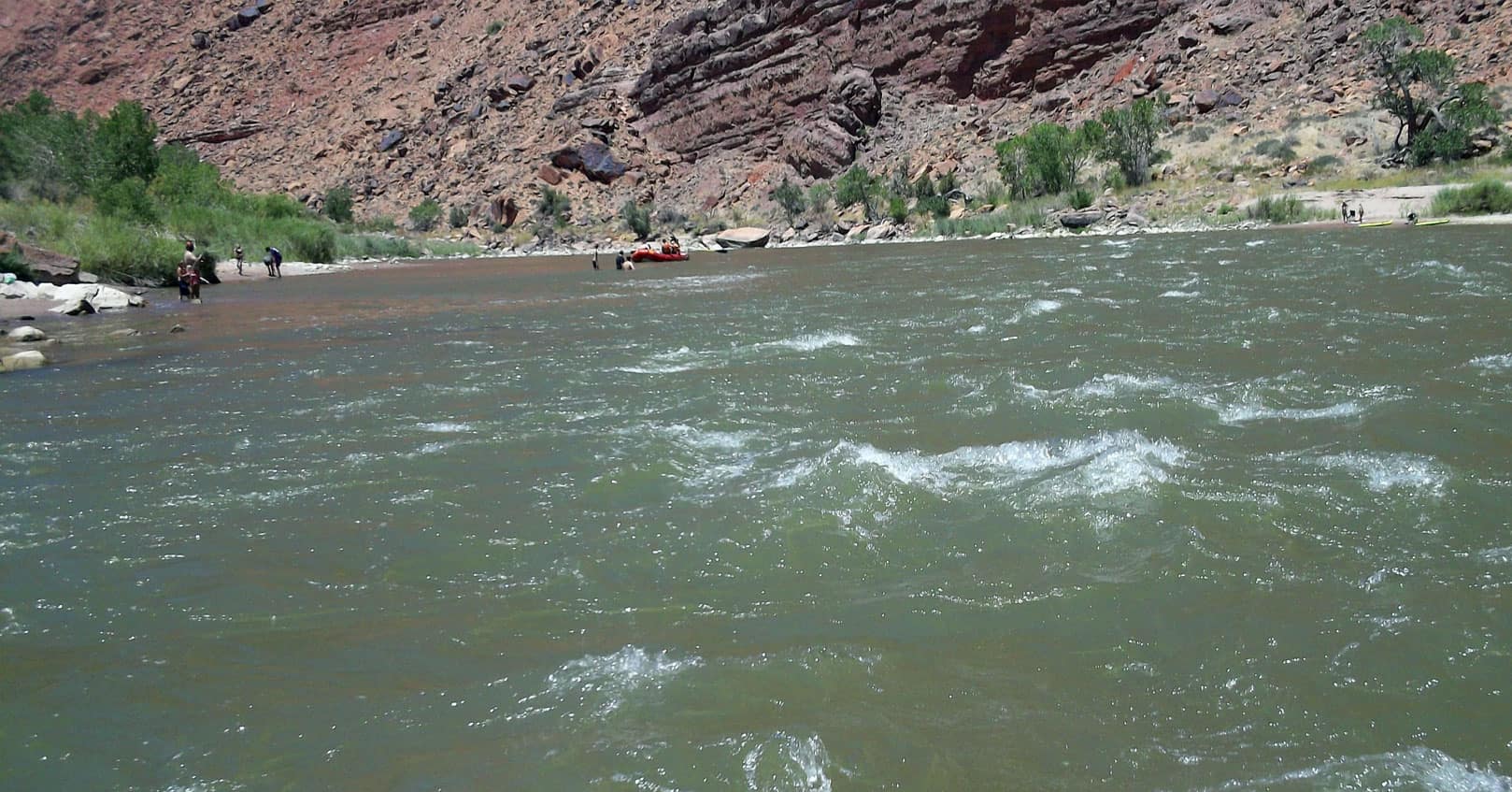 The Scenery was Beautiful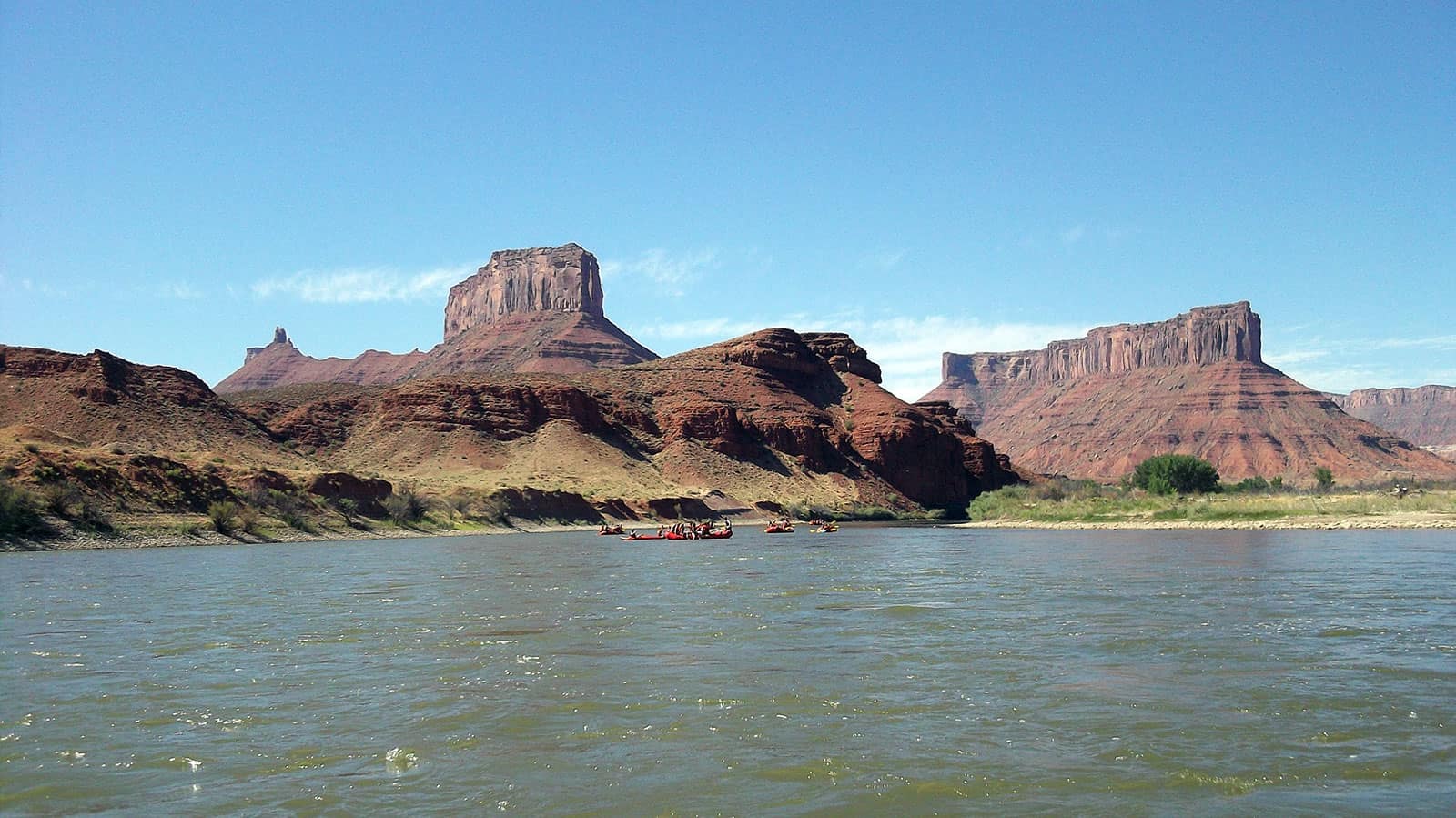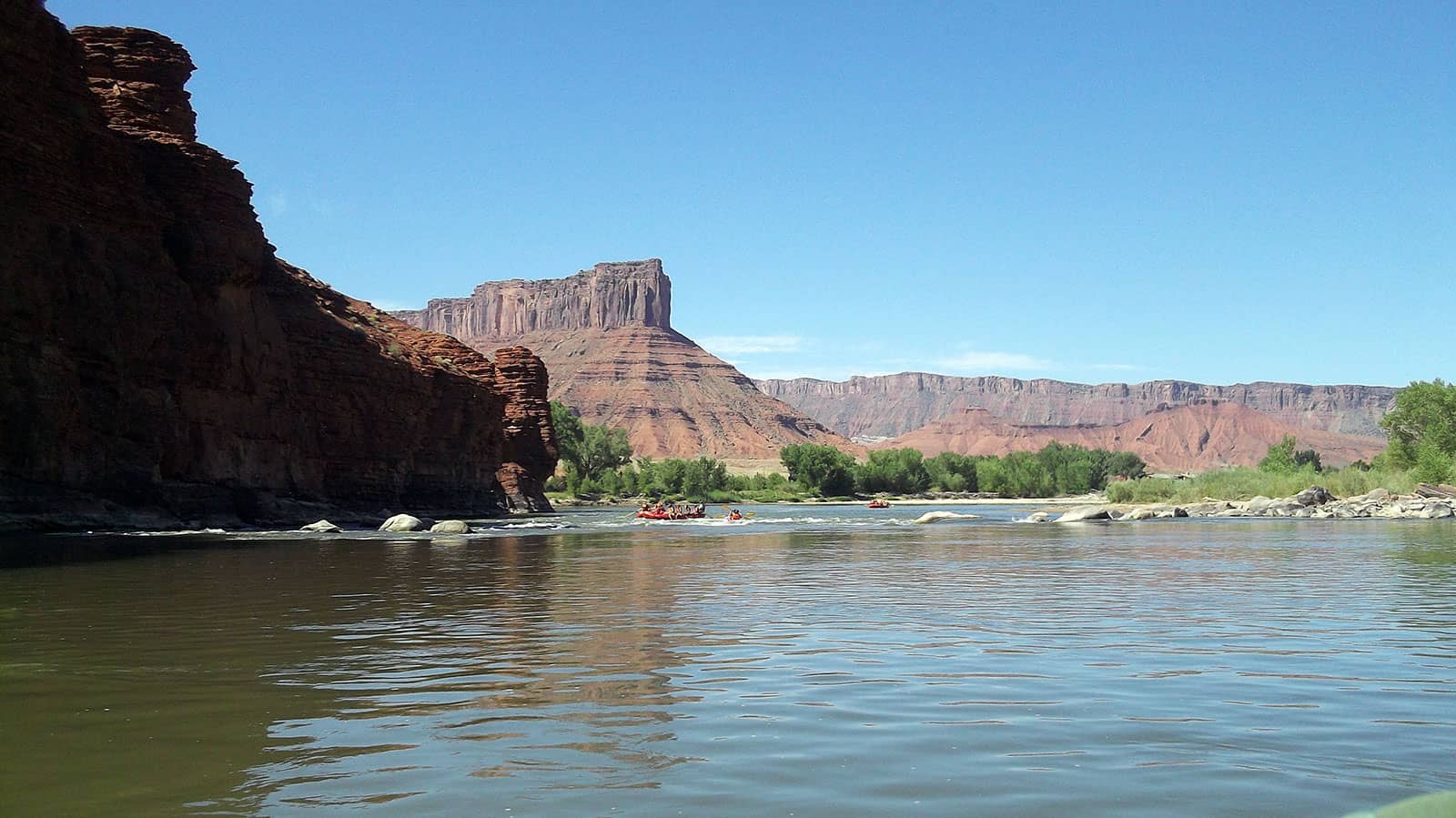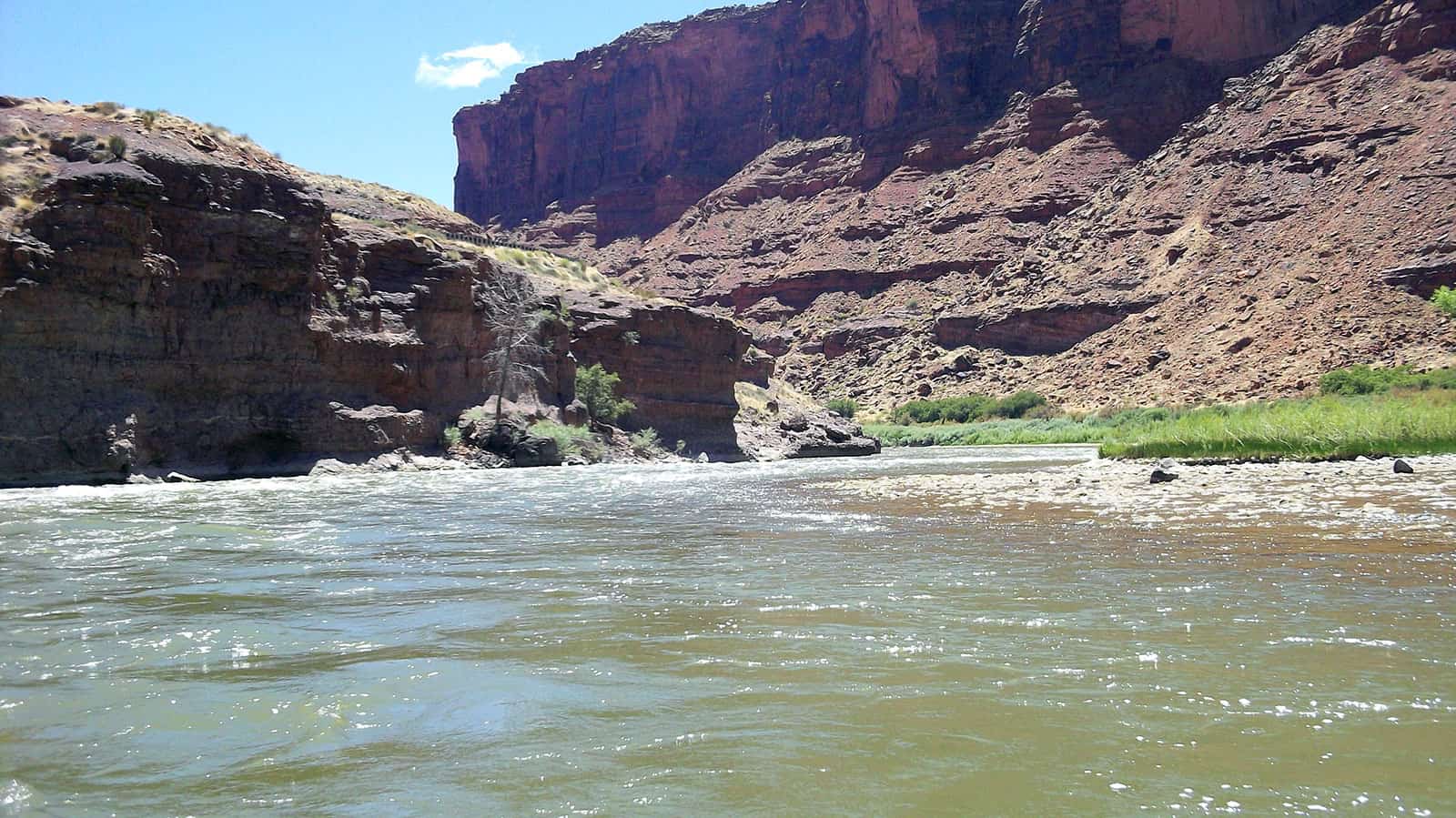 Heat and Rivers Mix Nicely
We were all wearing long sleeves and shorts over our swimsuits as well as hats so as not to burn. That plan worked perfectly. No burns. The best part was floating in the river between the rapids. The water was lovely. Every time we felt a bit hot, we just jumped in and floated. The first picture is my husband and the next two I'm hanging with Lisbon in the water.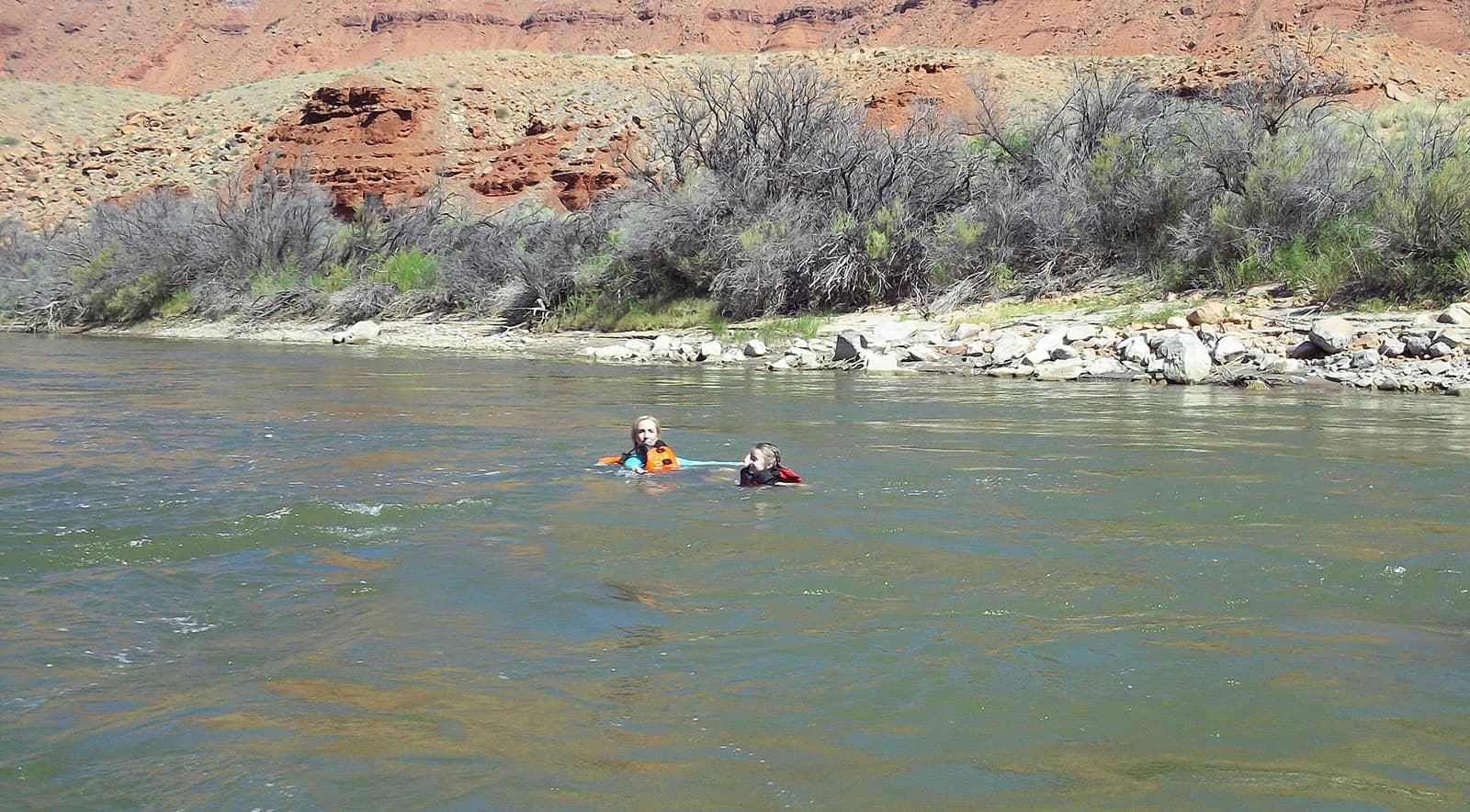 River Wasn't Very Deep
In many places the river wasn't that deep, but it's going deceptively fast. You can't simply walk along the bottom like my husband and daughter Liana are trying to do. The riverbed goes by very fast!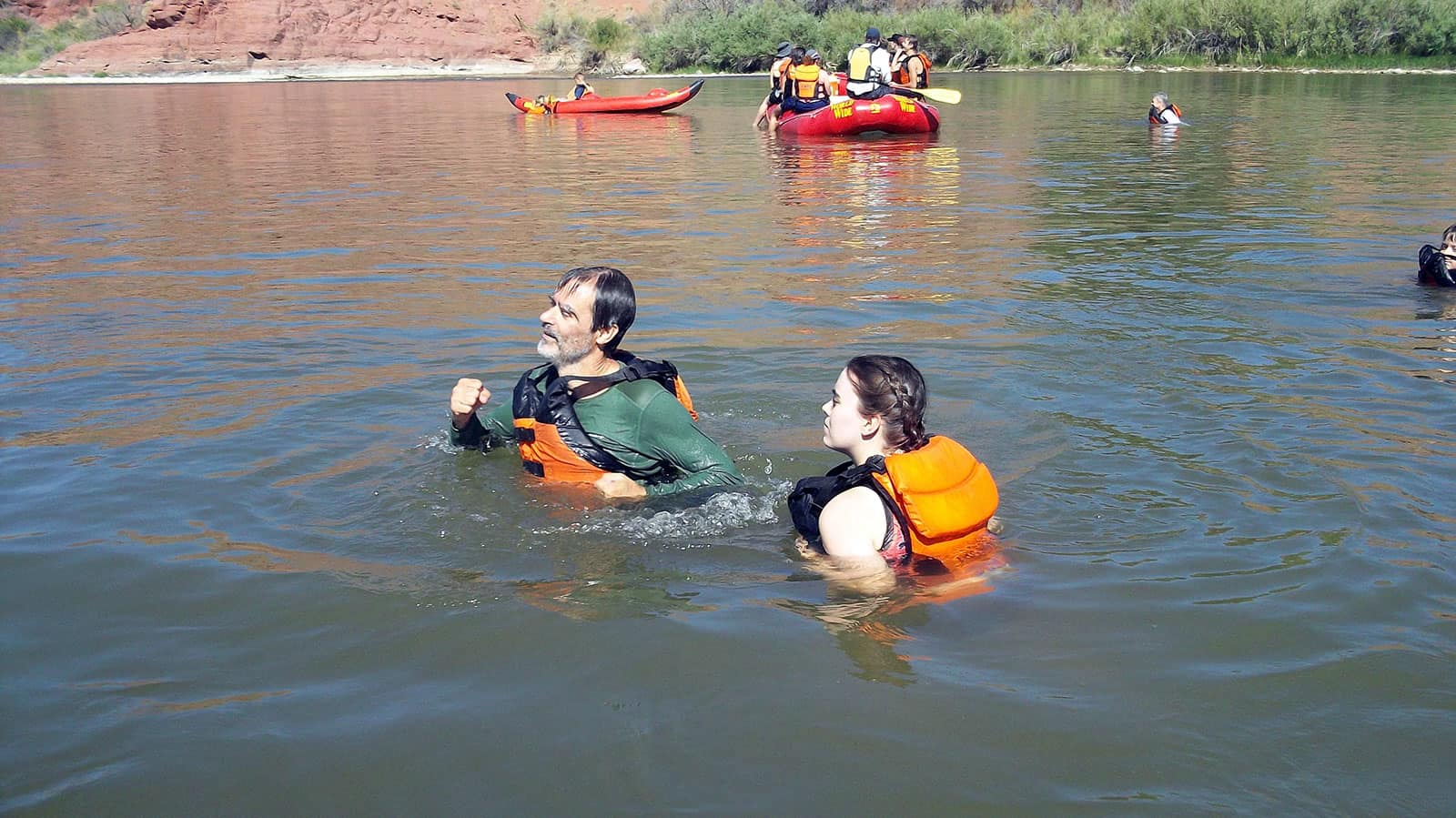 Lunch
One negative about the trip was the food they offered when we stopped for lunch. I'd have much rather seen separate bagged lunches instead of platters of sandwich makings without any serving utensils. They did have hand sanitizer, but would it have hurt to give everyone a fork, or to throw a sandwich in a bag? If anyone was sick, we might have all become ill. Fortunately, no one got sick. Maybe we were all washed off in the river? Yeah, probably not.
Would I Go Again?
Yes! I'm hooked. Only this time I want a more challenging run. My family enjoyed it too.
A Near Scare
All too soon it was time to go home. First we grabbed some hamburgers at a fast food place. Then for some reason, we forgot to fill up our gas before leaving Moab, which apparently is in the middle of nowhere. We had more than a few miles running on fumes and prayers before we finally reached another town where we could fill up.
Have you ever gone river rafting? I'd love to hear about it!

Text and Photo Copyright 2020 Teyla Rachel Branton
Reuse notice: you are free to print Rafting Down the Colorado River for personal use or non-commercial use with friends, share this post link anywhere, quote a short excerpt with attribution and a link to this site, but you may not use this post in its entirety on your own page. Thank you for caring about copyright.