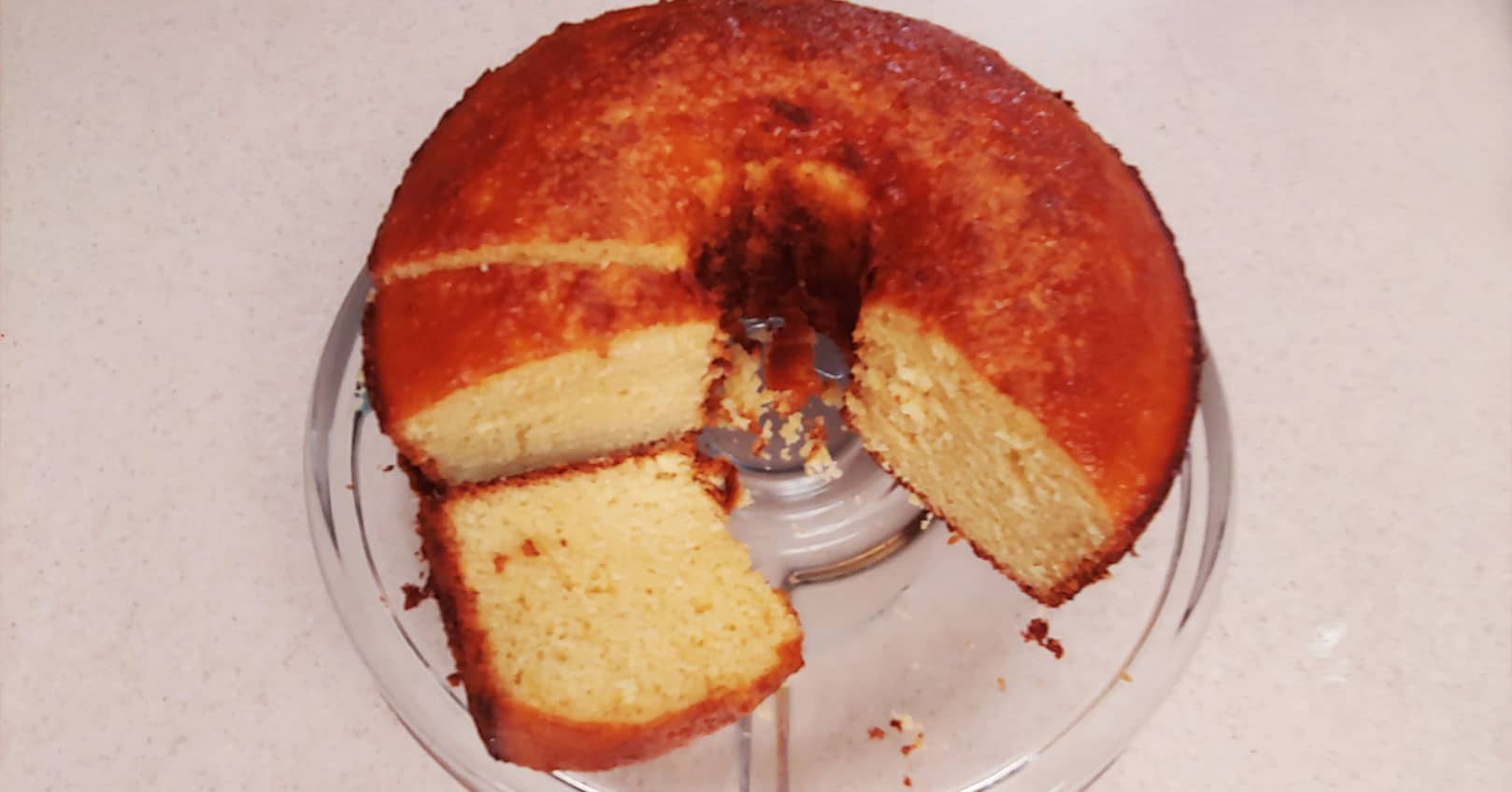 This yogurt cake is one of the best things I learned to make while living in Portugal. And it's almost fail-safe if I can make it! We usually have it for either Mother's Day or my birthday (which are days apart), and this one we made for Mother's Day 2020. My eight-year-old, Lisbon helped. This is my mother-in-law's recipe, but everyone I know there makes it just about the same way.
I first fell in love with this cake as a single twenty-one-year-old when the woman who eventually became my mother-in-law used to make them for me in Portugal. She'd often bring one to church for me on Sundays, wrapped in paper towels and placed in a plastic bag. My roommate and I would eat it until we couldn't hold more. Sometimes even her sister-in-law would bring us a cake. A few short years later after I married and started having children back in the USA, my mother-in-law would make a yogurt cake every time we visited her so we could take it to the beach or to anywhere else we were traveling. It was the perfect snack. That's when I started making them. They were so easy! 
But I could never get the yogurt cake to work in America, no matter how many videos and phone calls from Portugal. Turns out, it wasn't just me. The first time my mother-in-law made one while visiting us in America, it didn't rise and was raw in the middle, plus it had a weird oil taste (we ate the outside anyway, lol). The corn oil and the adjustments I tell you about below soon fixed the problems, and we've been making it here ever since.
This yogurt cake keeps well for days, and you can also freeze it, though mostly my kids gobble it up so fast it only lasts a day or two. Just smelling it bring a rush of warm memories. I hope you enjoy it too!
Yogurt Cake Recipe
1 plain yogurt, 6 ounces (US ounces, which measures 177.44 mils)
I use a full fat yogurt. You can do other flavors, but I usually use plain or vanilla. Feel free to experiment! Put in large bowl. Then use the yogurt cup to measure the rest of the ingredients. If your pan is larger, you may want to use 8 ounces of yogurt. If you're in Europe, your yogurt container might be smaller. Just be sure you use the same cup to measure the other ingredients (and see my note on the eggs).

1 yogurt cup of corn oil 

Can substitute with canola or even light sunflower—but DON'T use cheap soybean or vegetable oil blends or it ruins the taste. Olive oil is too strong.
3 yogurt cups of sugar

3 yogurt cups of flour
1 yogurt cup of milk (high altitude only)
Note: in Portugal we don't need to add the milk but I couldn't get it to work without the milk where I used to live in the Rocky Mountains. After I moved to Florida, I no longer need the milk, but it probably won't ruin the cake if you add it. I use whole milk, but I've done it with 1% fat and that works fine.
1 tablespoon of baking powder
Note: This tablespoon of baking powder is for the US. In Portugal at the time I learned to make this, they only used 1 teaspoon because baking powder also comes in their cake flour. If you live in a country with added baking powder, use only 1 tsp. (And actually, since I am back at sea level, I am going to test with using less baking powder because with all those eggs, I shouldn't really need to add that much, even though sea level generally requires more than at high altitude.)
Six egg yolks (reserve eggs whites because you will whip and add them last)

Note: my mother-in-law's yogurts are smaller so she only uses 4 eggs.
Put it Together
Mix above ingredients well. Then whip egg whites in a separate bowl and fold into the cake batter.
Put into a funnel pan (greased only on the bottom), cover with tinfoil and put into a preheated oven at 425 for 15 minutes and then lower to 350 for 45 more minutes. Remove tinfoil for the last 10 of those minutes. Should be golden brown on the outside!
This is a very heavy, moist cake. And it's healthy, right? It does have yogurt, lol. I love to serve it with freshly cut strawberries and whipped cream. This whipped cream was fresh and sweetened with a little sugar. However, I only had frozen strawberries this time, so the strawberries ended up liquid instead of nice chunks. It still tasted wonderful. 
Happy baking!

Copyright 2020 Teyla Rachel Branton
Reuse notice: you are free to print Easy Portuguese Yogurt Cake Recipe for personal use or non-commercial use with friends, share this post link anywhere, quote a short excerpt with attribution and a link to this site, but you may not use this post in its entirety on your own page. Thank you for caring about copyright.