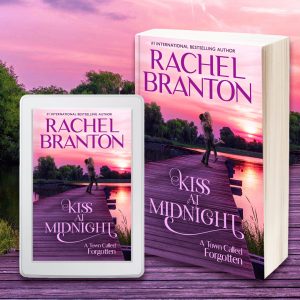 I received some great editorial reviews on the Kiss at Midnight the first book in my new small town romance series!
From Midwest Book Review
Kiss at Midnight is the first book in the series "A Town Called Forgotten" and opens with a journey Hailey Waters makes to this small town in Kansas where she recalls feeling at home. It's a place where she can remake her life, heal from wounds, and both maintain control of her world and hide. It's also a place where she seeks to live up to the town's name by forgetting her past, which unexpectedly occurs before she even hits the town's city limits.
She didn't anticipate that this new life would involve not just new connections, but people such as kindly vet Dylan Morgan, who wants to know about that past. Dylan, also, has returned to this small town to heal from the pain of women who always break his heart with their secrets and ultimate rejection. Hailey, with her amnesia, represents the biggest possibility of heartbreak of all.
Can the two overcome their experiences, and painful perceptions of life to form a lasting bond in a town aptly named for their different notions of setting aside and forgetting their pasts?
Kiss at Midnight is a romance that is as much about finding one's place in the world as it is about an evolving connection between two lonely individuals who each heal from similar kinds of pain.
Rachel Branton takes the time to build each character's background, experiences, and psychological profile. This lends to a story whose strength lies as much in their separate progressions towards healing as in their evolving interpersonal relationship.
She also takes the time to build the small town's atmosphere, building descriptions into the story. This gives life to the tale, moving it beyond any singular focus on the relationship alone: "They sat in silence for a while, feet in the water, enjoying the quiet that was broken only by the occasional call of a bird or the plop of a turtle sliding into the lake. Hailey hadn't realized how very far they'd come on the path. The way the lake was shaped, she couldn't even see the park. One lone boat was out on the water. Nothing more. The beautiful turquoise of the water called to her deceptively. Before I leave here, I'll have to swim just once, she promised herself. That is, if she ever left."
The evolving conundrums of both characters, their different reasons for rejecting their pasts and attempting to embrace a future without it, and the clash of their personalities and needs as they face unexpected obstacles in their new lives makes for a wholesome, involving romance. This will especially delight women who look for emotionally-driven stories solidified by a solid small-town atmosphere.
Kiss at Midnight is evocative, revealing, and hard to put down. Its realistic dilemmas and character growth powers a story that is compelling and involving.
Reviewed by D. Donovan, Senior Reviewer, Midwest Book 
From My Book Ratings
In Kiss at Midnight, Hailey Waters arrives in the small town of Forgotten with no memory of how her past or how she got there. The residents, including handsome veterinarian Dylan Morgan, are friendly and welcome her to their town. But how can she take a chance on love, or even on a future at all in Forgotten, if she can't remember who she is? What is she running from?
Dylan is drawn to Hailey, but he knows she's hiding something—something big—and he's been burned before. How can he trust her if she won't even be honest about little things?
As pieces of Hailey's past are slowly revealed, the reader is drawn into the mystery. It's easy to root for Hailey as she struggles to find her place, and to sympathize with Dylan as he tries to figure out who Hailey really is. All the while, their relationship deepens in a realistic, passionate way that has you hoping for their future.
Kiss at Midnight has just the right amount of mystery to keep you turning the pages. This clean romance also brings in other attention-grabbing elements: a beloved dog about to give birth (and later, her adorable puppies), a B&B owner with secrets of her own, veterinarian house calls, characters you'd like as your own neighbors, and a charming, small-town festival. The ending is completely satisfying with exactly the right blend of sweet and passion to thrill lovers of wholesome romance.
When the past collides with the present, will Hailey and Dylan's relationship survive? Or will Hailey's past and Dylan's fears keep them apart? Pick up Kiss at Midnight, an enthralling, standalone romance to find out!
Reviewed by Catia Shattuck, Senior Reviewer, My Book Ratings