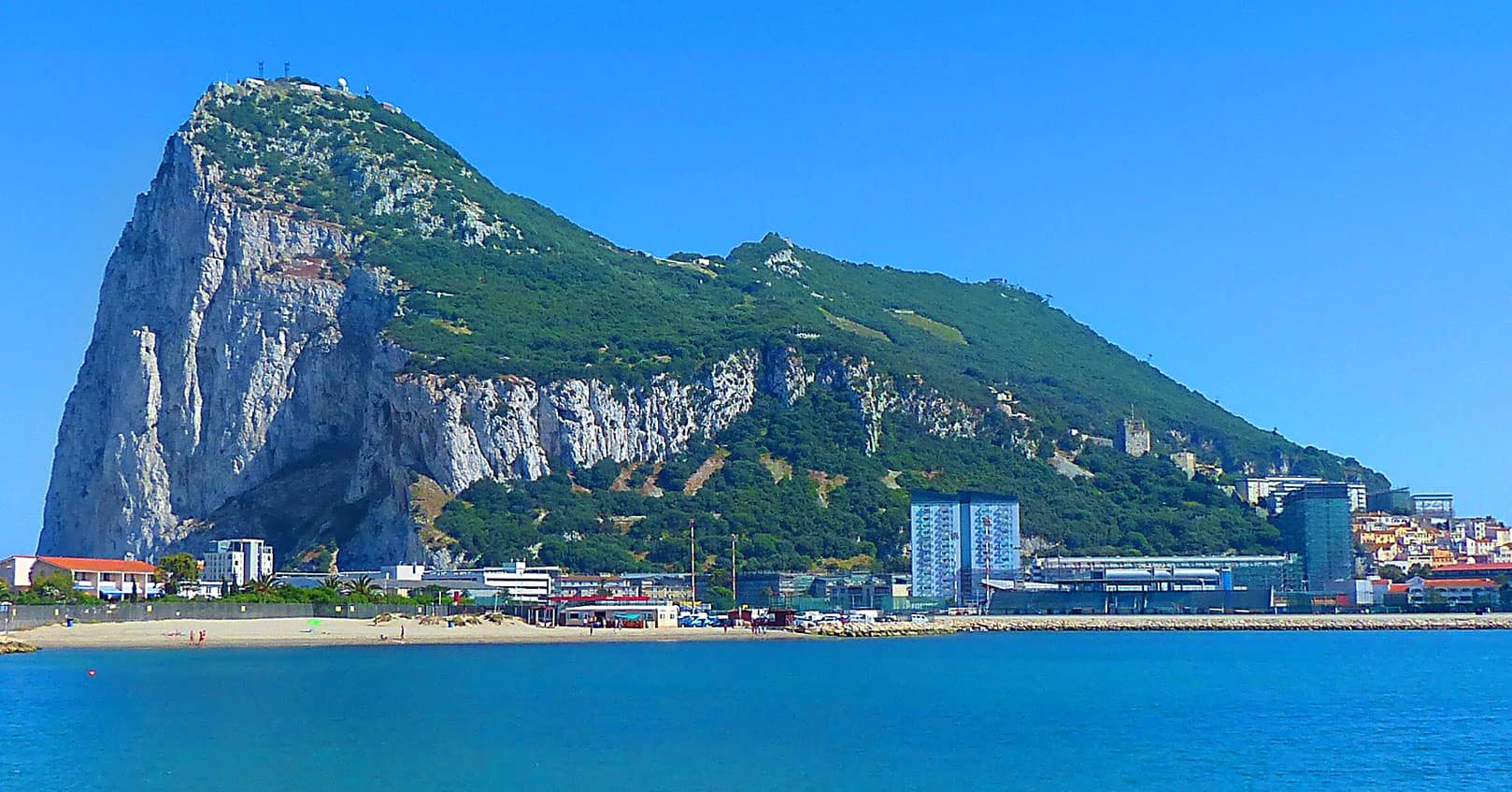 I've mentioned a few times how difficult it was to get married in Gibraltar, and some of you have asked about the story. Well, here's the scoop!
I met my future husband, Tó João (Anthony John or TJ for short), when I was living in Cova da Piedade, Portugal (I was there about five months in that city). After I went home, he was able to get a Visa and came to see me in the United States. He brought a ring and proposed, and I fell head-over-heels in love. It was a story every bit as romantic as any in the best romance novels. Yes, we were two people from different continents who were meant for each other. When his month in the States was over, he had to return to Europe, but we lasted only two weeks apart before he bought me a ticket, and I was on my way back to Portugal to marry him.
Portugal says no!
But once in Portugal, we couldn't get married! Marriages, divorces, and deaths are all recorded on Portuguese birth certificates, and my US birth certificate didn't say what my marital status was, so we were denied a license. Tó João also couldn't get another Visa to return to the US because he'd been there so recently. (Though we later learned there was another option we could have pursued.)
Get married in Gibraltar?
Enter Gibraltar, which is a little (2 ½ miles) British territory at the tip of Spain that is separated from Morocco by a strip of water called the Strait of Gibraltar. Now, Spain would love to have Gibraltar as part of their country, and England was willing to let them, but the residents of Gibraltar always vote not to join Spain. (The last vote was 99% against and 1% for.) Anyway, as most people in Europe know, pretty much anyone can get married in Gibraltar, so that's where we decided to go.
Upon arriving at Gibraltar, a day before our wedding appointment, we enter the city before 5:00 AM and drive around, scoping out city hall with my husband's mother, aunt, and grandmother. The place is super crowded and confusing, but we get everything clear in our minds before tracking down an attorney who needs to sign the necessary papers for us. At last we head back to Spain and our hotel, where we're all in one hostel room with skinny, cot-like beds. We have a lovely dinner and do a little sightseeing before turning in early for the big day.
We almost miss the appointment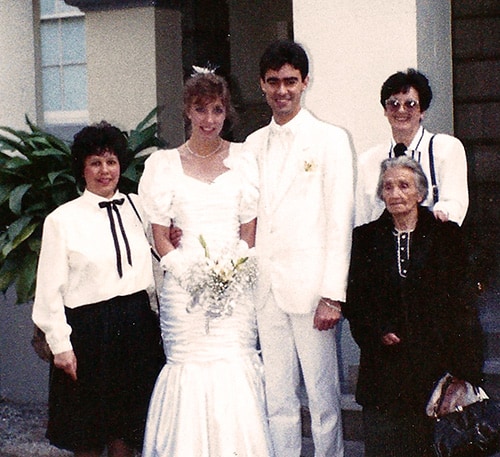 The next morning, we get a huge shock when they won't let us drive into Gibraltar. That's right. For some reason, that day they're only allowing residents or people who work in Gibraltar to drive in after a certain hour of the day (6:00 AM, I think). A line of cars backs up for over a half mile, and there seems little likelihood of us making our marriage appointment.
We park along the side of the road like many of the other visitors, determined to hurry the few miles to city hall. Immediately a panhandler accosts us, saying he'll watch our car if we give him money. Or in other words, we need to give him money or he'll see that something happens to our car! Because we're pressed for time, Tó João shoves some escudos at him (this was before the euro), and we start walking—fast.
My future mother-in-law (she's wearing sunglasses in the picture), who is always brilliant, suggests that I start knocking on the windows of cars waiting to enter Gibraltar to find someone who lives or works there to drive us to city hall. I stare agape at her. I'm an almost 23-year-old in a foreign county, and she wants me to what? When I hesitate, she starts knocking herself, never mind that she doesn't speak any English like most of the citizens of Gibraltar. But her Portuguese is somewhat understood by an elegant Spanish lady. When I explain in more detail, showing the wedding dress I carry, she says in a decided English accent, "Absolutely! Of course, for anyone who is getting married." So Tó João and I hop inside the car and are on our way, leaving behind all the women in his family!
More paperwork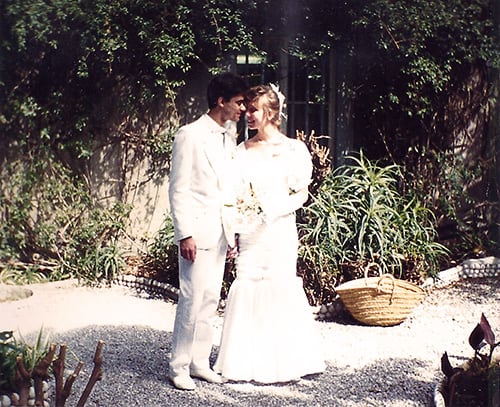 The kind stranger lets us off near city hall, and we hurry through the remaining street to get there. When we arrive at city hall, though, something is wrong with our documents, so we're running back to the attorney to have him fix the papers. That's right, we're running through the streets in a bit of a panic, wedding clothes in hand, looking for the address. Fortunately, everything is really close.
Papers corrected, we're all ready to go, except we both need a place to change! They give us weird looks (I guess we were supposed to come dressed?) and send us to different places. I end up next door in an ancient, medieval-like building of some kind with cement flooring. Totally empty of furniture with water stains on the cement walls. But it works to change my clothes. There's no bridesmaids or fancy hair dresser. Just me in that room, and no mirror.
Finally, it's time. I've been too busy to be nervous, and I'm sure my hair is a mess, but who cares? My future in-laws have somehow managed to make it to city hall, so they are there to witness the marriage as planned. We exchange our vows and sign the papers. After all of that, we had a moment to catch our breaths as we take pictures in the garden at city hall.
Back to Portugal and then to US
Then it's six-hours to drive back to Portugal, where we drop off the ladies (our backseat drivers), and head to our own hotel. Alone at last!
The next morning finds us, bleary-eyed, at the US Embassy in Lisbon, applying for a Visa. It ends up taking us three weeks to make it back to the United States. A week later, we get married again, this time in church with my family present.
So much drama, but definitely worth it. And twenty-eight years, seven children, and one grandchild (this August) later, and we are still happily married. While I wouldn't exactly recommend that anyone get married in Gibraltar, it worked for us.

Copyright 2017 Teyla Rachel Branton
Reuse notice: you are free to print for personal use or non-commercial use with friends, share this post link anywhere, quote a short excerpt with attribution and a link to this site, but you may not use this post in its entirety on your own page. Thank you for caring about copyright.