If you've been following my newsletter, you know I have a woodpecker problem. Well, today I hung scare tape, a fake owl, and cleaned off the deck. My next plan to get rid of the woodpeckers is to spray the repellent I bought and fix the damage they've done to the decorative frame around my window. That requires renting a ladder tall enough, but I didn't want to wait to get started scaring the woodpeckers away.
Preparing the scare tape
To prepare the scare tape I first reinforced it with duct tape on one end and tied them with hemp cord onto my deck railing. Only a square knot would hold hemp together, so I'm glad I went to girls' camp and learned all about knots as a teen. Let's hope this works!
Unfortunately, while I was outside, I noticed weeds are taking over the grass. Guess that'll be my next nonwriting project.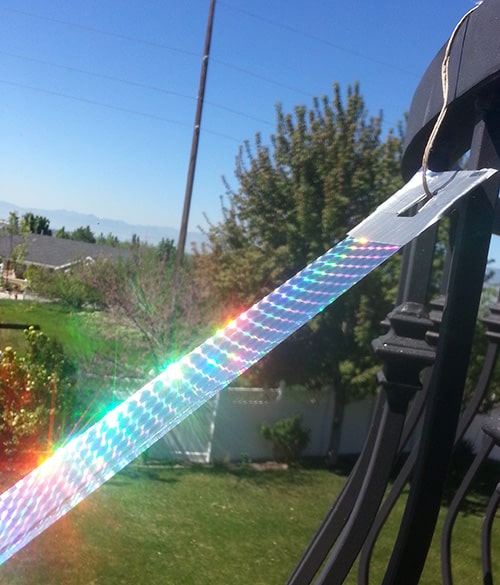 Then I cleaned off the deck!
Let's not forget the fake owl!
I just hung him on the edge of my hammock for now. I'm hoping to put him higher once I rent the ladder. No, he's not electronic or another, but we get wind  here.
I'll let you know if it works to get rid of the woodpeckers. Stay tuned!

Copyright 2017 Teyla Rachel Branton
Reuse notice: you are free to print for personal use or non-commercial use with friends, share this post link anywhere, quote a short excerpt with attribution and a link to this site, but you may not use this post in its entirety on your own page. Thank you for caring about copyright.