We recently moved to Florida (August 2021), and while we're still digging out from boxes and trying to pare down belongings to fit in this smaller house, we also added a new member to the family. Fortunately, our move means we have a lot more land here than we did before. So when our elderly neighbors on our street were forced to move and couldn't take their horse, we adopted him.
Introducing Jack of Hearts, Our New Mini Stallion
We adopted Jack when some neighbors had to leave the home they were renting and needed someone to take care of him. He is sixteen years old and very sweet, if a little feisty sometimes. He hadn't been accustomed to grooming, and he was being given pig food (and too much of it!), but now he has the proper amount of mini horse grain, nice hay, and fresh grass. He gets curried daily and we even learned to trim his hooves. My youngest, Lisbon, loves Jack! This is him before his hair cut.
Me and Jack
Here I am  with Jack. You can't see it, but he has one blue eye and one brown eye.
Flirting Jack
This is our mini stallion, Jack of Hearts, hoping to get through to the flirty horse next door. He loves this mare and one across the street. Thankfully, he is safe behind the fence because they've been known to kick. This is Jack after his hair cut (see video below).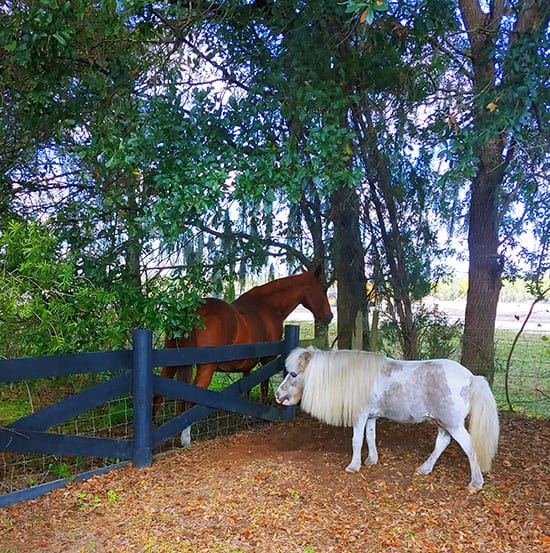 Jack's First Haircut

Copyright 2020 Teyla Rachel Branton
Reuse notice: you are free to print Jack of Hearts for personal use or non-commercial use with friends, share this post link anywhere, quote a short excerpt with attribution and a link to this site, but you may not use this post in its entirety on your own page. Thank you for caring about copyright.