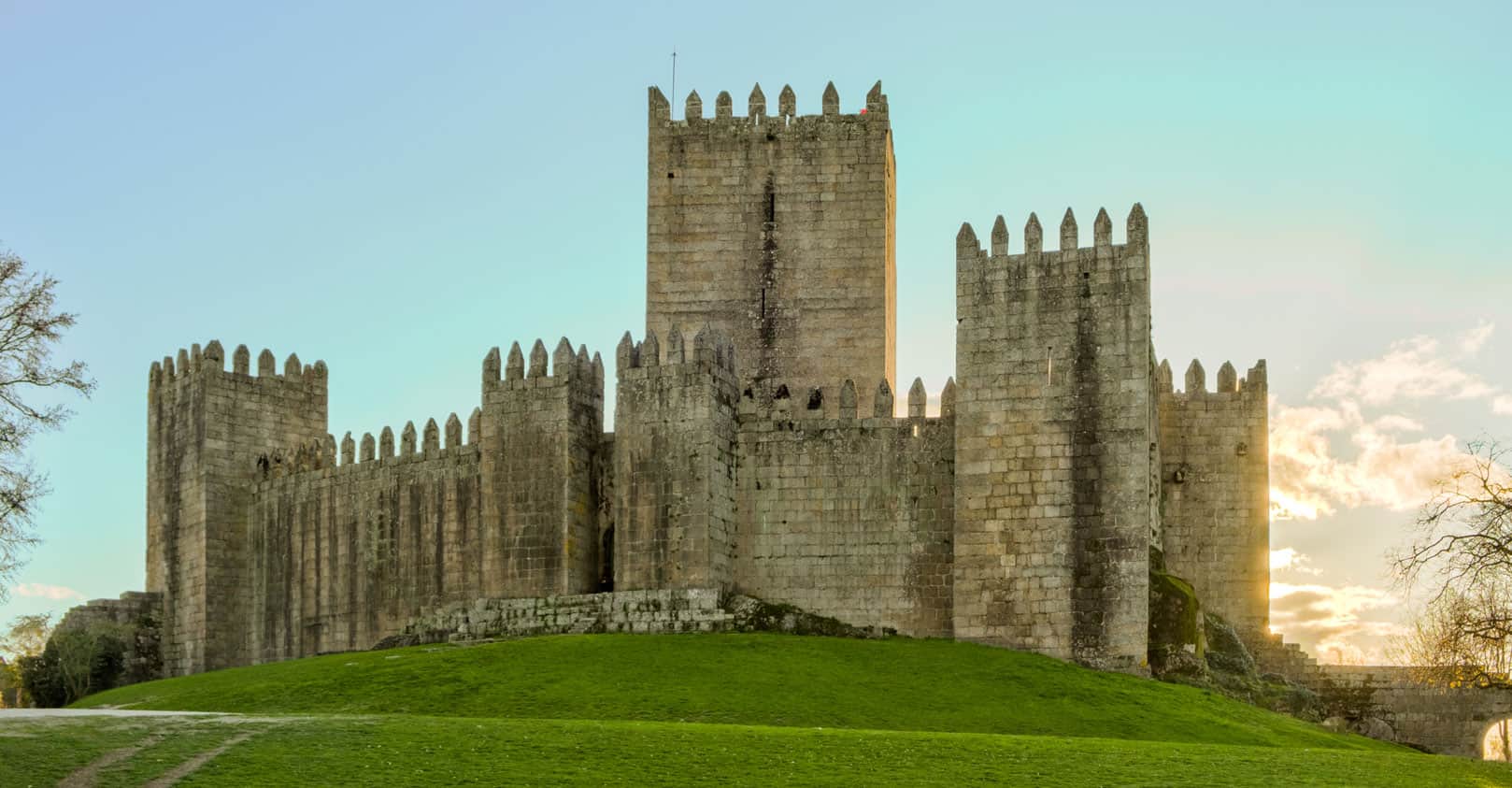 Castle of Guimarães is believed to be the birthplace of Afonso Henriques, the first king of Portugal. This castle brings back a lot of memories for me, as it was one of the places I visited with my husband before our marriage and a picture we took there was later part of our "proof" for the immigration officers that we were in love. We took our older children to the castle some years later and haven't been back. This trip to Portugal, we decided it was time to take the two youngest. It's one of the less expensive castles you can visit in Portugal.
Great Parking
There is a large area for free public parking, which isn't always true for some castles, and this makes visiting the Castle of Guimarães even easier. Here is my youngest, Lisbon, standing in front of one of the nearby historic churches with the castle in the background.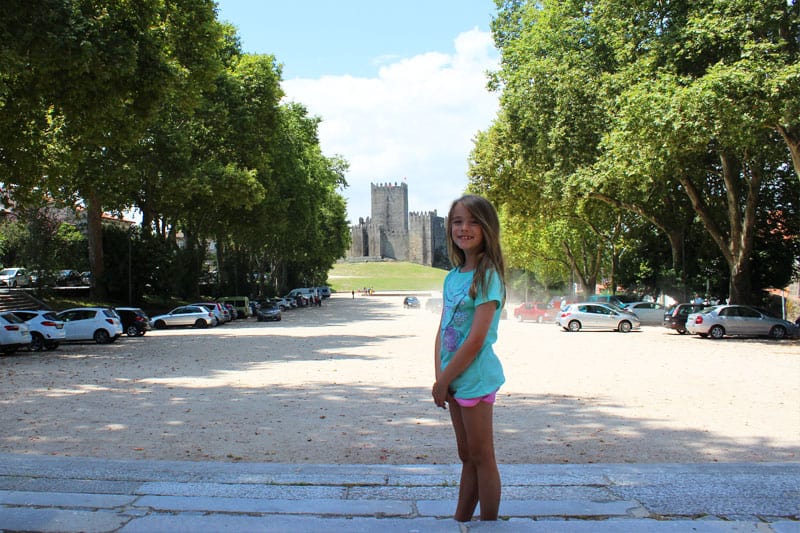 And a view of the church later from the castle itself, just to show a little more perspective.
Safe (and Boring) Wooden Walkways 
The castle itself was familiar, even after so many years, but where before visitors who climbed the parapets and walked along them had to be very careful not to fall off, now wooden walkway, railings, and wires line everything. It was rather disappointing to see this, as they definitely didn't exist back when Afonso Henriques was running around the castle, but it was infinitely a lot safer. Below is my husband with our daughters Lisbon and Liana, with his cousin Zezinha and his brother, Jaime, behind them.
Below my husband and daughter check out the Castle of Guimarães.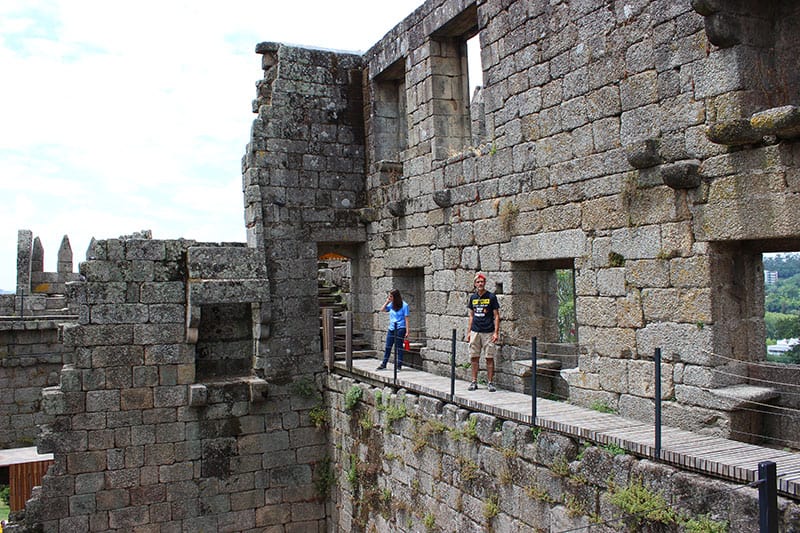 Me with my daughter, Lisbon.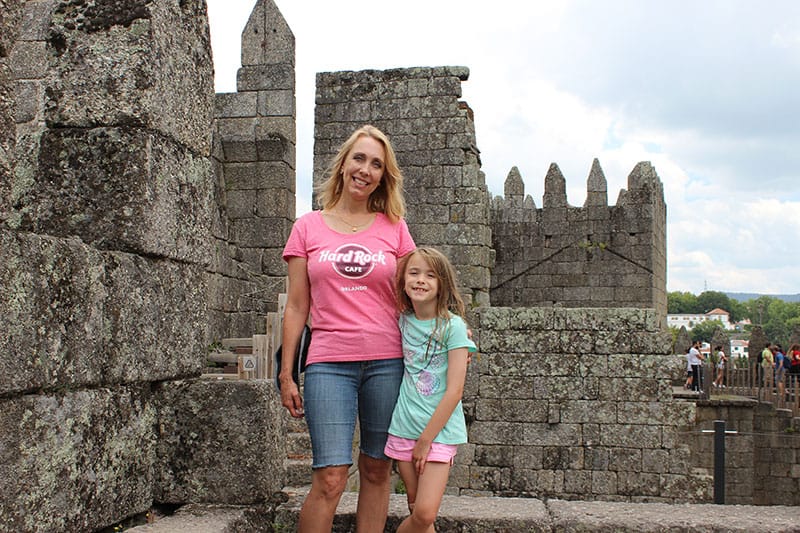 Cool Steps
Now this is more what Afonso Henriques, the first king of Portugal, would have lived with. Unfortunately, they were roped off. Liana was a little disappointed.
Refreshments Anyone?
A castle room just for refreshments is new for us. This definitely wasn't here the last few times we visited. The kids enjoyed hot chocolate from a vending machine, and there were plenty of other choices for my mother-in-law, brother-in-law, and husband's cousin as well.
Inside the Middle Turret 
Something cool about this visit is that the past two times I was there, the middle turret was closed. I have no idea how long it's been open, but there are at least three floors you can visit now that tell the history of the area. There is even a cartoon video that tells all about Afonso Henriques. The uppermost room had stairs leading clear up to the top. But those were roped off this time. I really wanted to go up there and view the countryside, but maybe next time.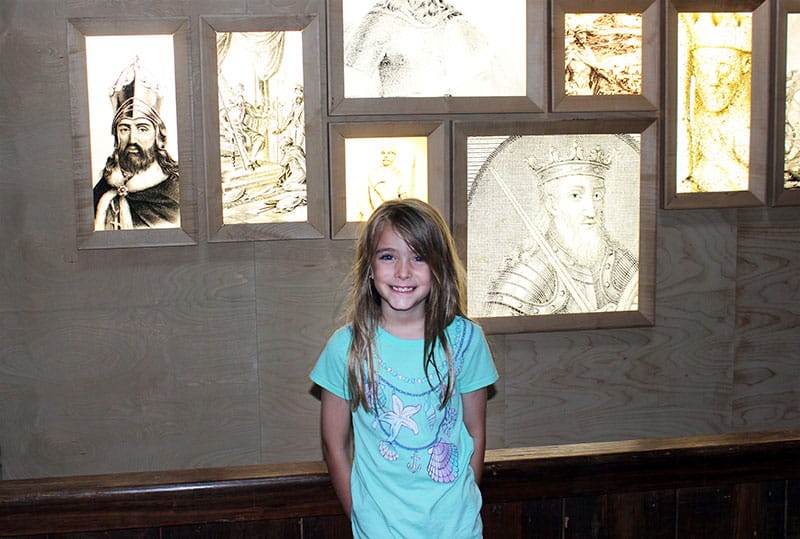 The Rock
This rock inside the castle walls is where my husband and I took the picture before our marriage and after our wedding in Gibraltar we used that as part of our proof that we were marrying for love and not to get him to the States. So being a sentimental fool like most authors, I wanted to pose there again. By this time, my ankle was very swollen after a weird foot injury, but it really didn't hurt. The first pictures we took with my hat.
Then I took it off, and I had to plump my hair up a bit. My husband got a kick out of that, and began plumping up his own hair. The wind didn't help things!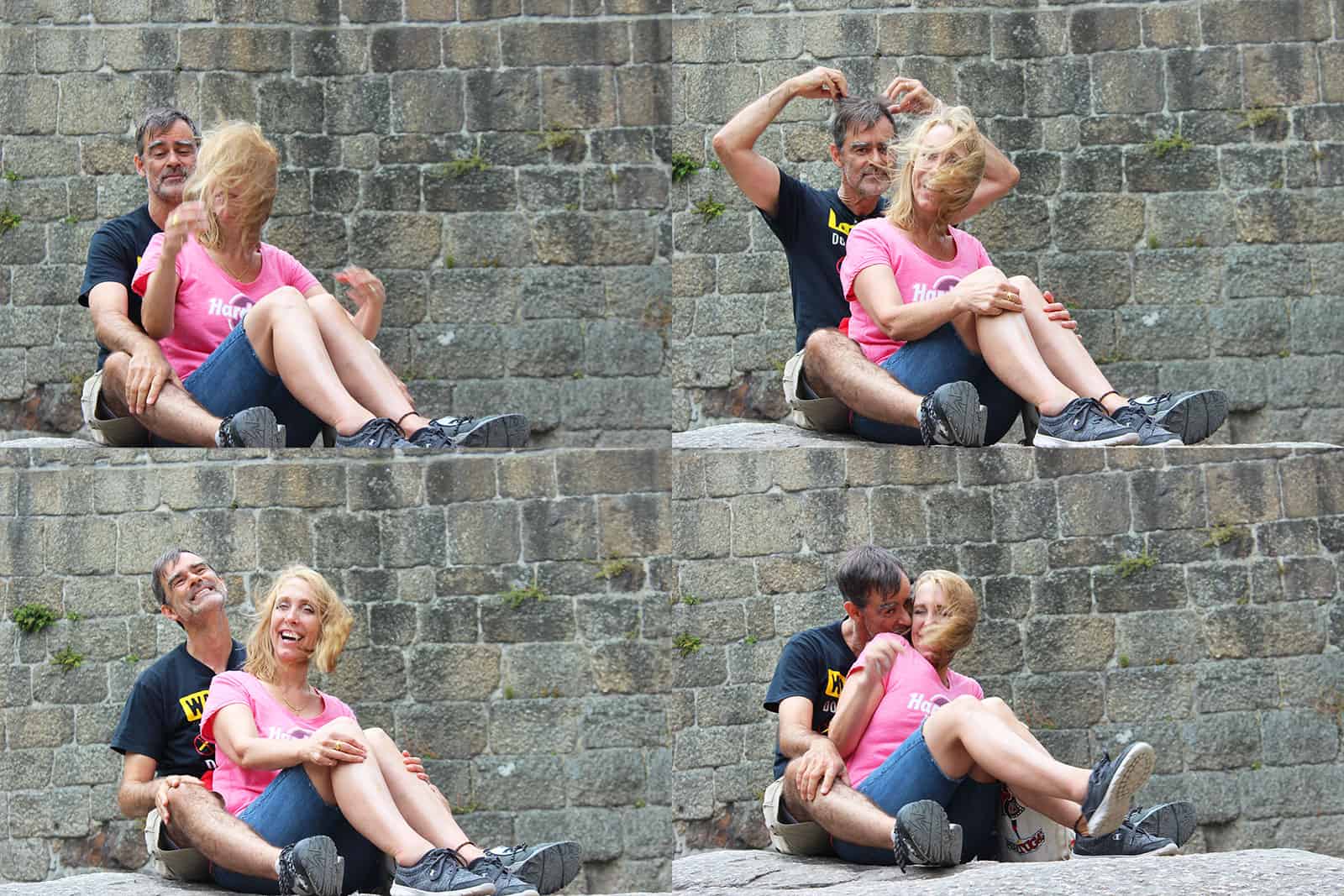 I've only included a few of the funny pictures here, but we were laughing so hard.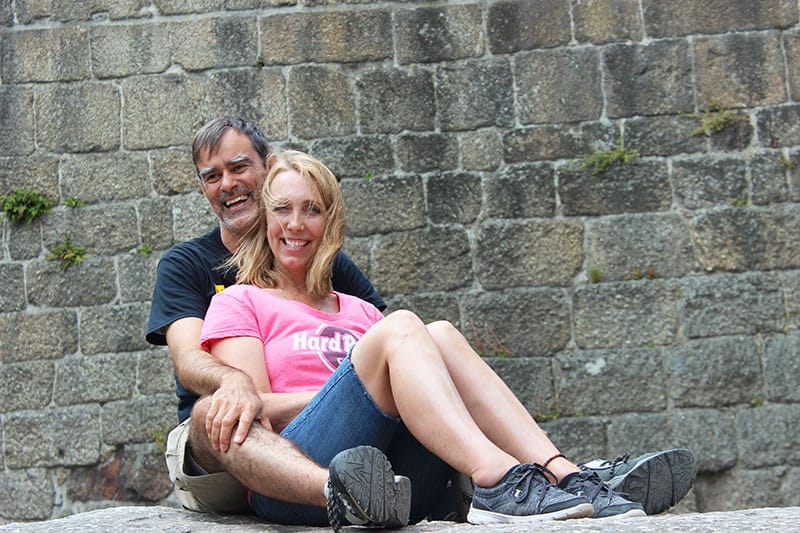 A new position really didn't help.
Then the girls got into the act!
To give you a little perspective, this is what the rock looks like zoomed out with the rest of our party in the picture.
And here is a terrible picture of my foot taken with a very old borrowed cell phone. I have no idea how I injured it the first time a few days before, but I reinjured on the bed at our cousin's house the morning before we went to Guimarães.
Outside the walls
Lisbon climbed up quite some distance into the rocks outside the castle. This gives you a little perspective of how tall the walls are.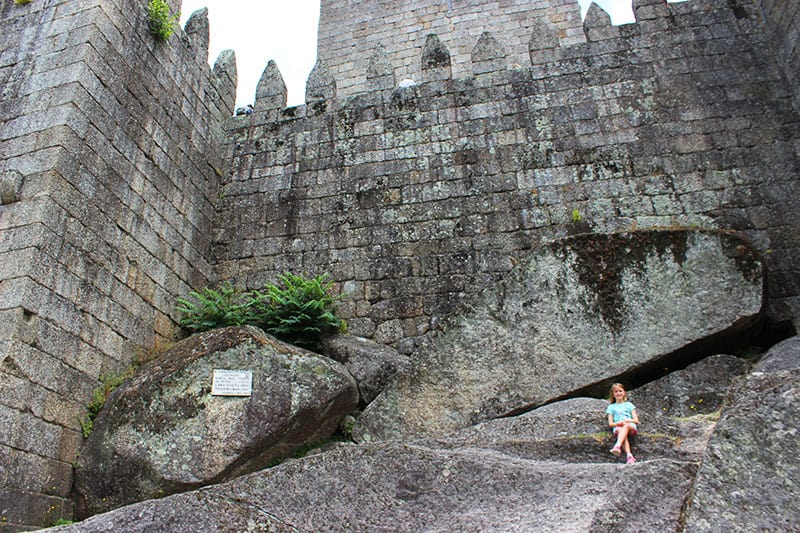 On the wall
Here are TJ and the girls on outside wall. If you look at the very first picture, this wall is on the right side and looks really small. In reality, it's pretty tall. This is taken from the other side, of course, right before we passed under the wall through the short tunnel.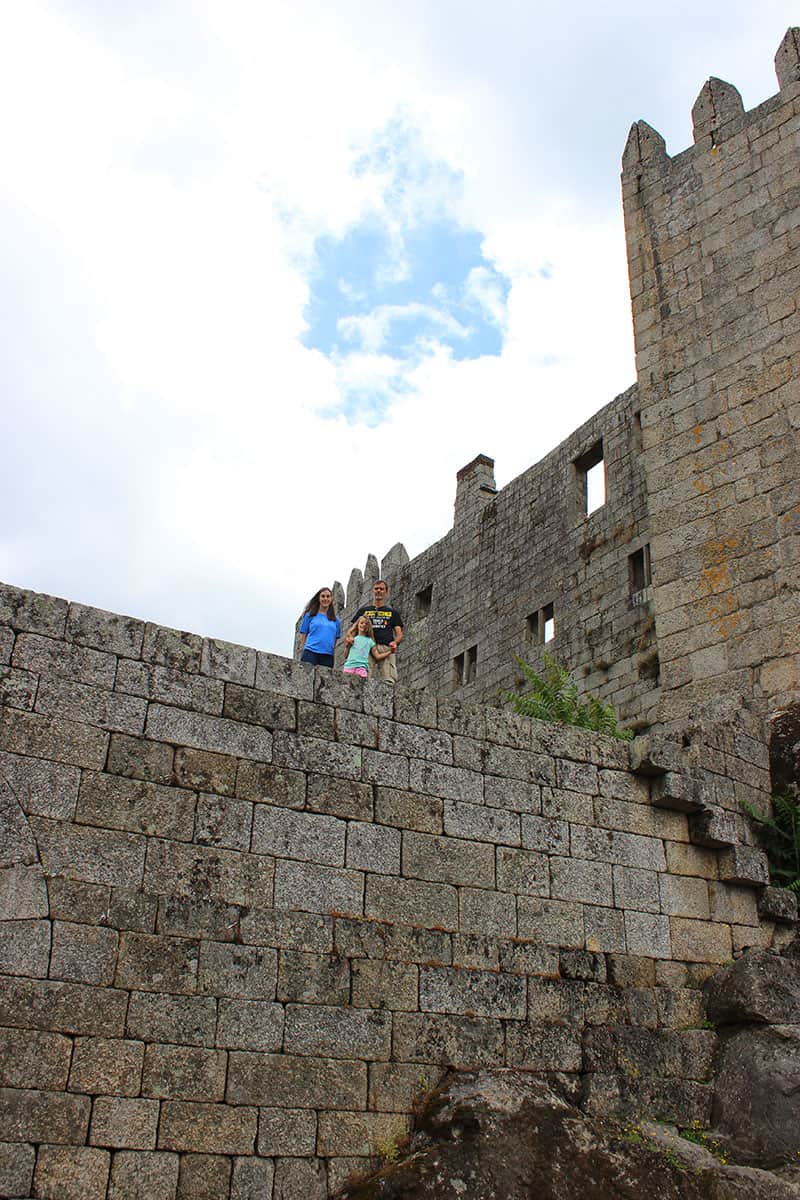 The surrounding area is beautiful, with the Palace of the Dukes of Braganza, several historic churches, and plenty of tables for picnicking only minutes away by foot. If you are ever in Portugal, make sure you visit and take a picture on my rock! If you missed my post on Sintra Palace, you should really take a peek at those pictures too. Next up are the pictures from the National Palace of Queluz. 

Copyright 2019 Teyla Rachel Branton
Reuse notice: you are free to print Castle of Guimarães, the Castle of the First King of Portugal for personal use or non-commercial use with friends, share this post link anywhere, quote a short excerpt with attribution and a link to this site, but you may not use this post in its entirety on your own page. Thank you for caring about copyright.